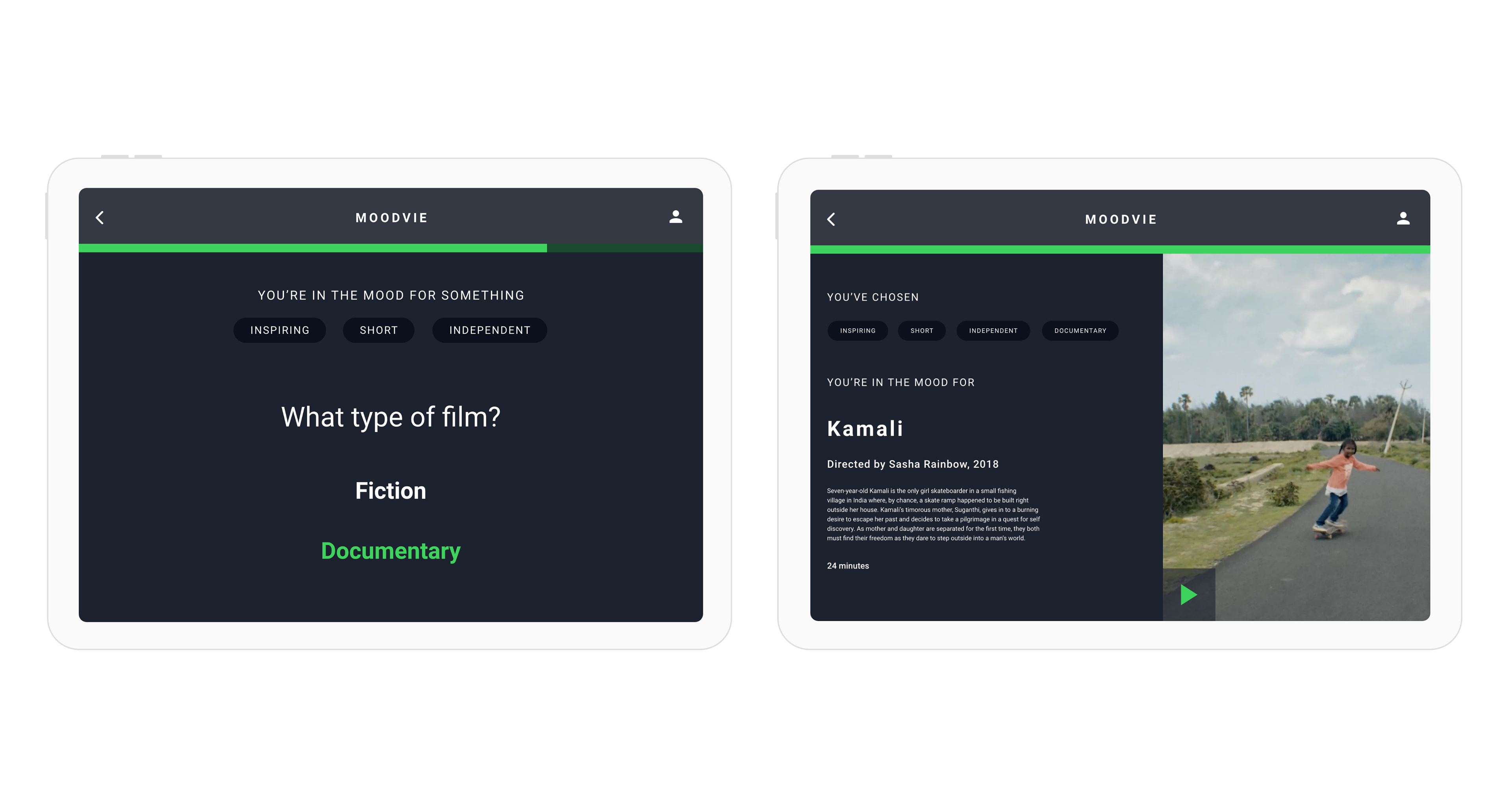 A hackathon project to design and build a prototype
of a website where users can choose what to watch based on their mood
This project was created as part of the Code First Girls Hack from Home 2020. We were shortlisted for the final, along with 5 other teams. After the hackathon, I was inspired to spend more time enhancing the design.
Code together in this time of crisis to make a difference in the lives of those who have been impacted globally. 
We were a team of 4, I worked with:
During the pandemic and lockdown many people are working from home and relying on streaming services to fill their leisure time. However, it can be difficult to discover new content on streaming platforms that aligns with the user need in the moment. Therefore, they need a quick and easy way of choosing watch to watch which better reflects what they are looking for.
Why this problem?
Film can be enjoyed as a form of escapism
but choice paralysis can make deciding
what to watch a frustrating experience
We began the project by discussing our shared love of film and asking the question: how can we watch more of what we enjoy? 
One barrier we identified to watching more of what we enjoy was being paralysed by so much choice. On streaming services you are presented with 1000s of choices of what to watch but this doesn't make it any easier to find something you'll enjoy watching. 
We discussed how this seemed to be exacerbated by the lockdown where to do simple tasks, such as shopping for food, required several more decisions and precautions than before. In combination with this, since there were few activities to do during their leisure time, people were increasing filling the time watching TV. Therefore, we decided to experiment with how the algorithm of streaming services could be subverted in order to better serve users during this challenging time.

Conducting secondary research to see if how we felt was validated outside of our experience 
Through this research we would be able to to confirm if this was a broader trend and therefore worth investigating further. We found resources related to decision fatigue, which gave a name to the feeling we had described.
"

Take sitting down to watch something on Netflix, even if I just look at what Netflix recommends for me personally it's overwhelming…All this filtering of other options out comes at a cost to our wellbeing. Just seeing all those choices is cognitively draining it leads to worst decision making later on, a phenomenon behavioural scientists call decision fatigue

"
Combining this issue of decision fatigue with the trend we'd observed amongst ourselves, as well as friends and colleagues of using TV and films as escapism during the pandemic we began to formulate the idea of platform where users could choose films based on their mood.
Research enabled us to validate our initial assumption, and therefore we felt confident enough to move forward with this idea and formulate a hypothesis to guide us through the project.​
Hypothesis
We believe that creating a platform where films can be chosen based on mood for those working from home during the pandemic will enable them to make viewing choices they feel more satisfied with.
Conducting a survey to test the hypothesis
We surveyed 38 people (ages 18-31) who were currently working from home due to the pandemic.​​​​​​​
people believed that their mood influenced their browsing and consumption behaviours
people spent long periods of time looking for a movie to watch
This experiment validated the hypothesis, as users were making choices based on mood and yet spending a long time deciding what to watch. We believed that in this gap Moodvie could add value by providing users a quick way to choose films based off how they feel at the time.  
Distilling the insights from the user research my goal was to design an experience that people would enjoy using and continually return to. Due to the time constraints of the hackathon, as well as the mental strain our users where under during this time, we opted for a user journey which was short and easy to understand.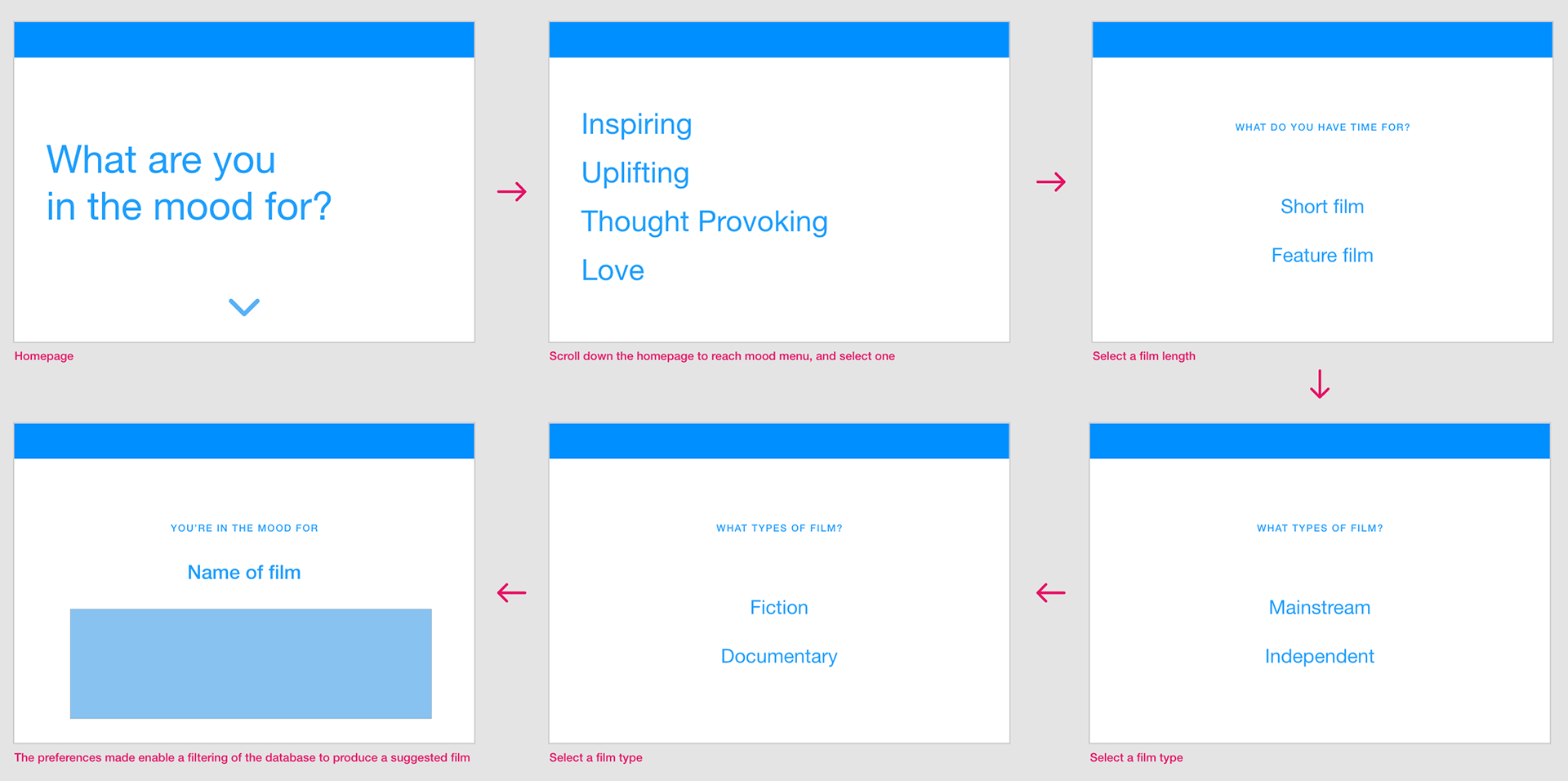 I created a journey where the user engages with the required filters, in order to provide a suggested film, but only focuses on making one choice at a time to prevent it from being an overwhelming experience.
Designing and building a prototype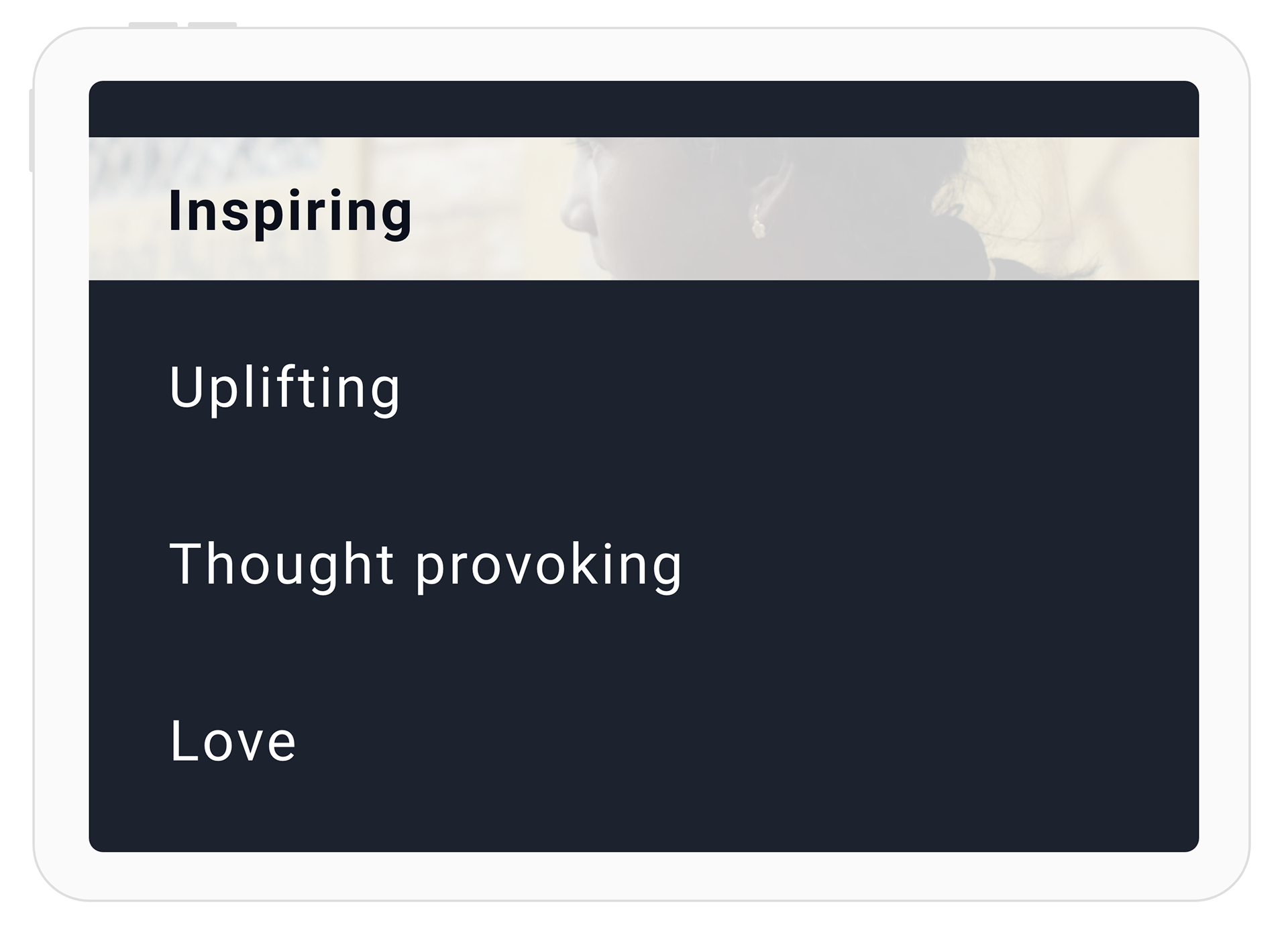 We translated 4 film genres into moods in order to generate a menu of moods that users could choose from.
A few steps are required to generate a film selection, the progress bar at the top indicates how far the user is in the process. Previous answers accumulate as tags so they can keep track of the choices already made.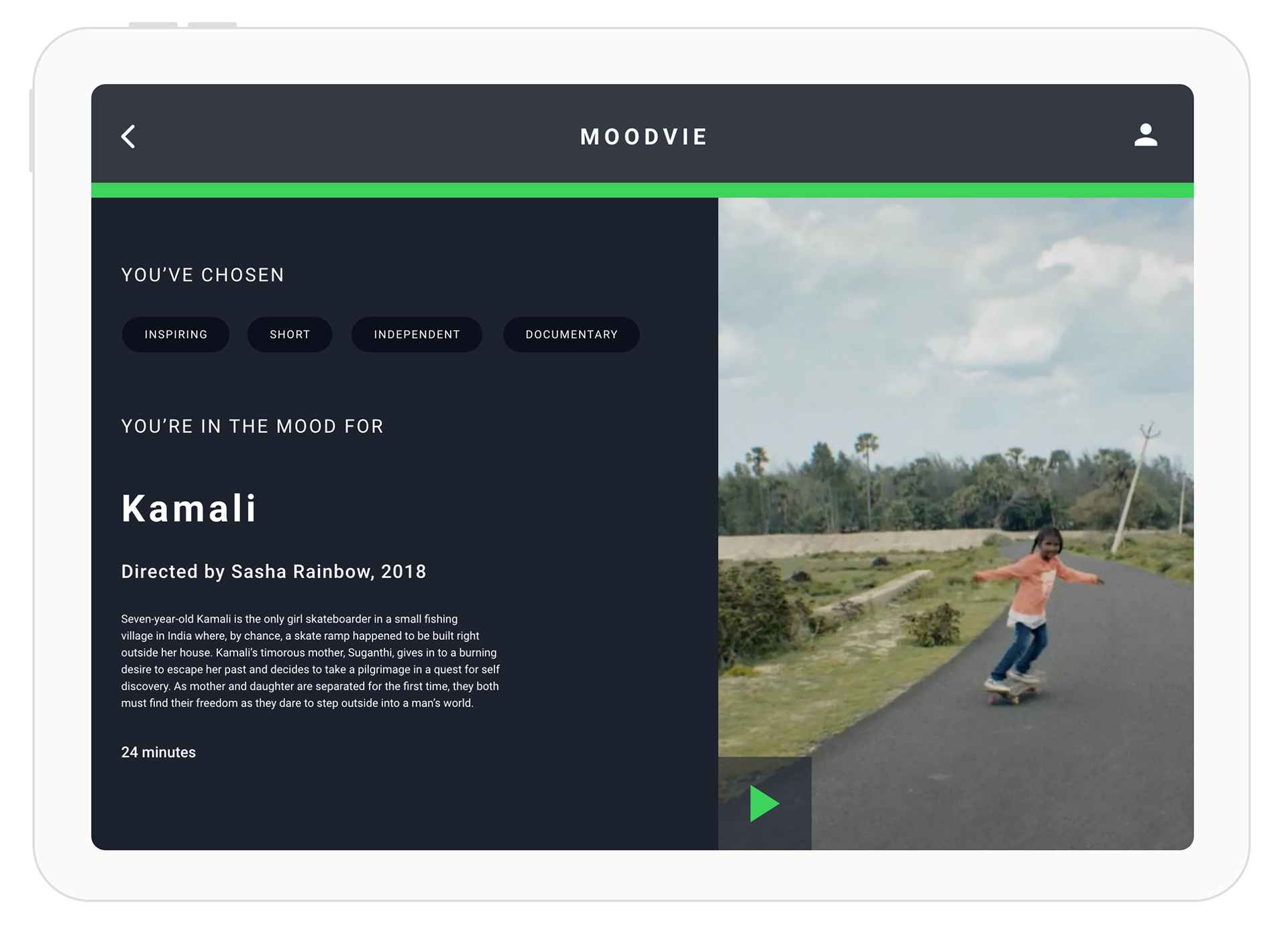 A round up of the choices which have been made to generate this film are included at the top of the screen.
Handing designs to a developer
Knowing how best to hand designs to a developer is something I would like to learn and work on in the future, as this was a point of difficulty in the process.
Feedback from users
The judges commented on the joy of using the website, going back several times to see what different outcomes would be. This was exactly the way I had intended users would feel when they interacted with the website.
Go to market plan
We received a finalists prize of a workshop with Goldman Sachs 'Launch with GS' mentors where we discussed a go to market plan. We looked at the current gap in the market and the various ways revenue could be generated.
Next steps
Learning and building on this version by testing it with users and using the feedback to improve on the next iteration.