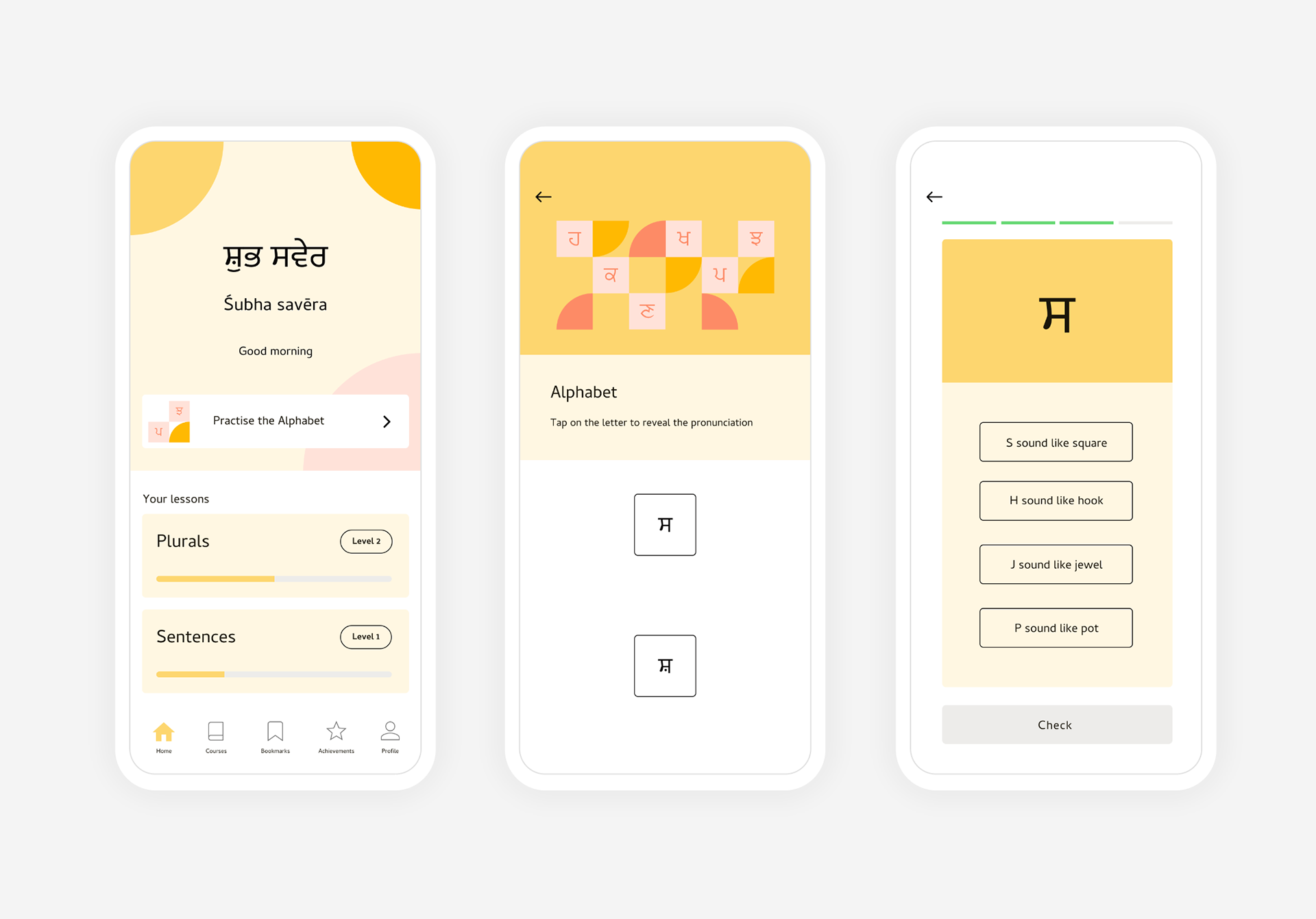 A self initiated project to design and build a prototype
of an app that enables users to learn Punjabi
Second generation British born Indians, aged 27-34, want to reconnect with their heritage and learn Punjabi in order to communicate better with family and/or pass it down to their children. However, Punjabi is difficult for English speakers to learn because it's a tone language and the script is non-Latin. Therefore, they need a method to learn the language that is approachable, accessible and can fit easily around their lifestyle.
Inspired to explore methods
for learning Punjabi after seeing my
own experience reflected in others
Keen to learn Punjabi in adulthood, I was reluctant to do so because I was embarrassed by my lack of knowledge. I had missed out on learning as a child as I didn't want to stand out at school and now in my twenties, I was ashamed to admit that this was the reason why I couldn't speak with my extended family.
However, after hearing Dr Mandana Seyfeddinipur's (Director, SOAS World Languages Institute) talk at CreativeMornings my perspective shifted. She spoke of the pattern in second generation immigrants who, after spending their adolescents assimilating, in their late 20s and beyond try to reconnect with their heritage. This process often involves learning a language. Seeing my own experience validated by her research as well as by the many other second generation immigrants in the room, I gained the confidence to start looking into how I could learn Punjabi.

To begin the project I conducted market research to determine what the current options for learning the language were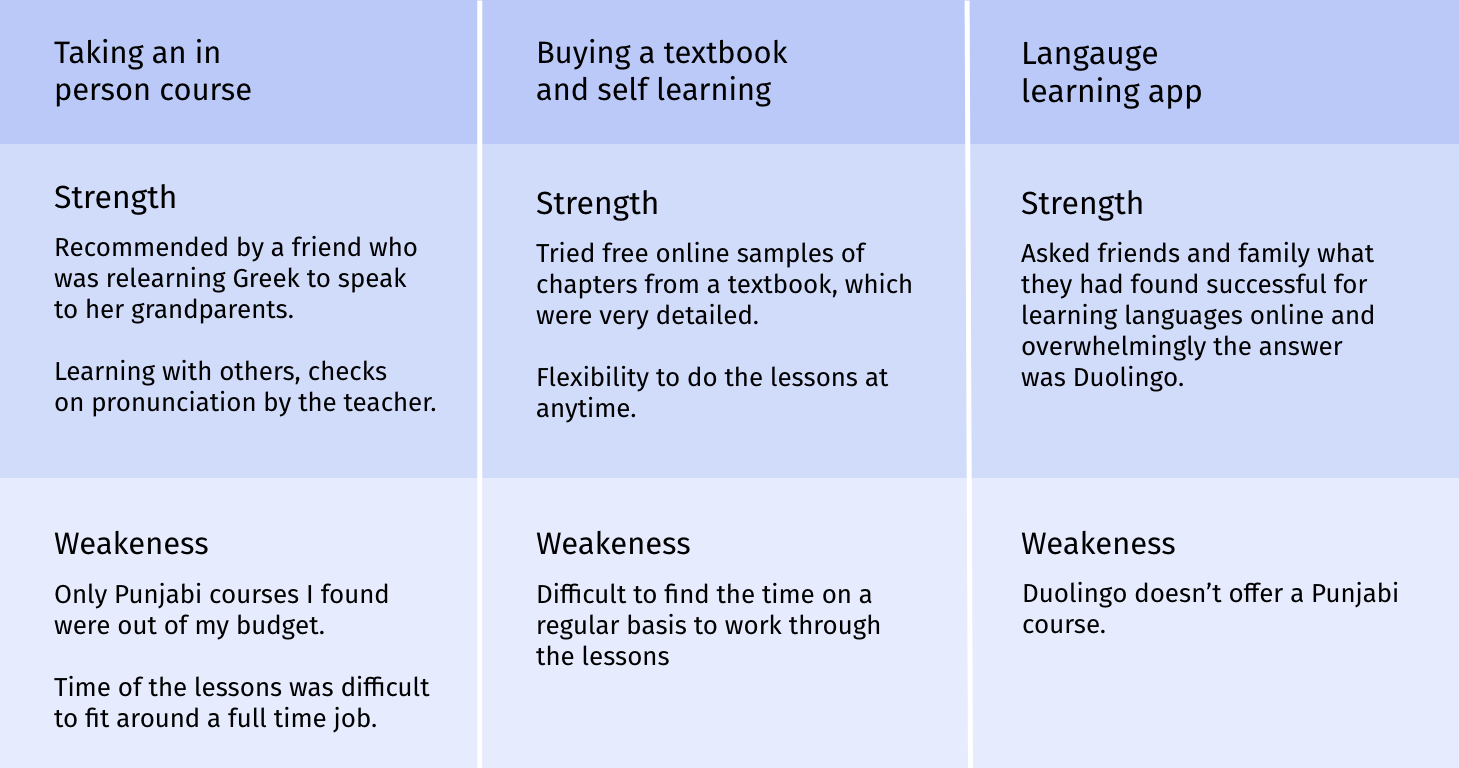 Weaknesses revealed barriers to learning:
• 

Fixed time and/or location
• 

Ability to dedicate uninterrupted time to learning

​​​​​​​
​​​​
By having access to a free app where they can learn Punjabi around their lifestyle, users will be more likely to sustain practise and improve. This will enable them to progress, going on to grasp the more complex concepts of the language with confidence.
Conducted competitor research on free apps to learn Punjabi
I reviewed 3 of the highest rated apps for learning Punjabi for free on the Google Play store. Since all of the apps suggested familiarising yourself with the alphabet as a starting point to learning the language, I decided to focus on this feature.
None of the apps felt like an engaging enough learning experience that it could be sustained over a longer period of time. Reviewing these existing solutions inspired me to experiment with creating my own app which would address these pain points.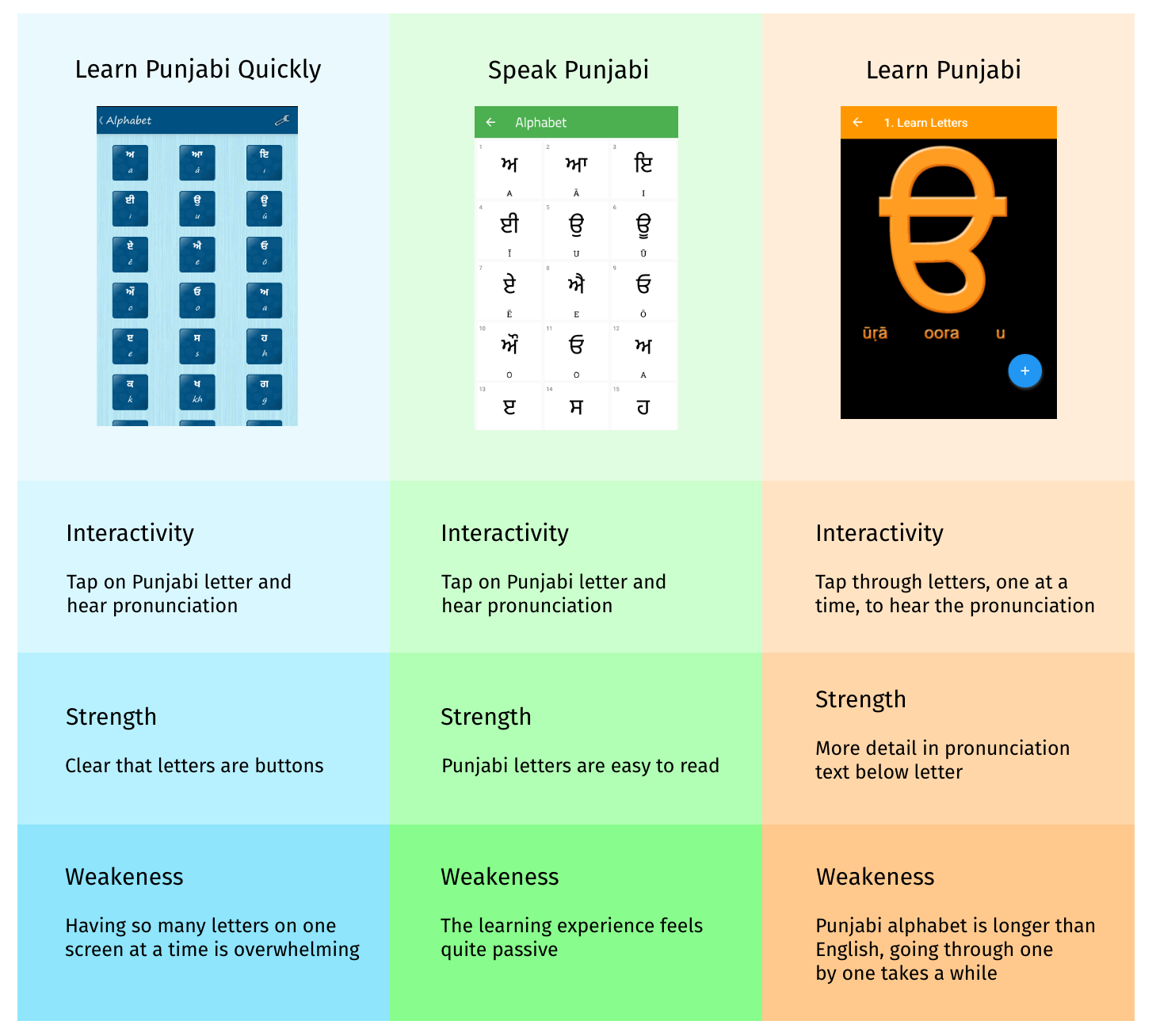 Exploring designs for an improved alphabet learning feature
Based off my insights from the competitor analysis the design goals for this phase were:
• 
Interactivity: keep users engaged
• 
Layout: approachable for complete beginners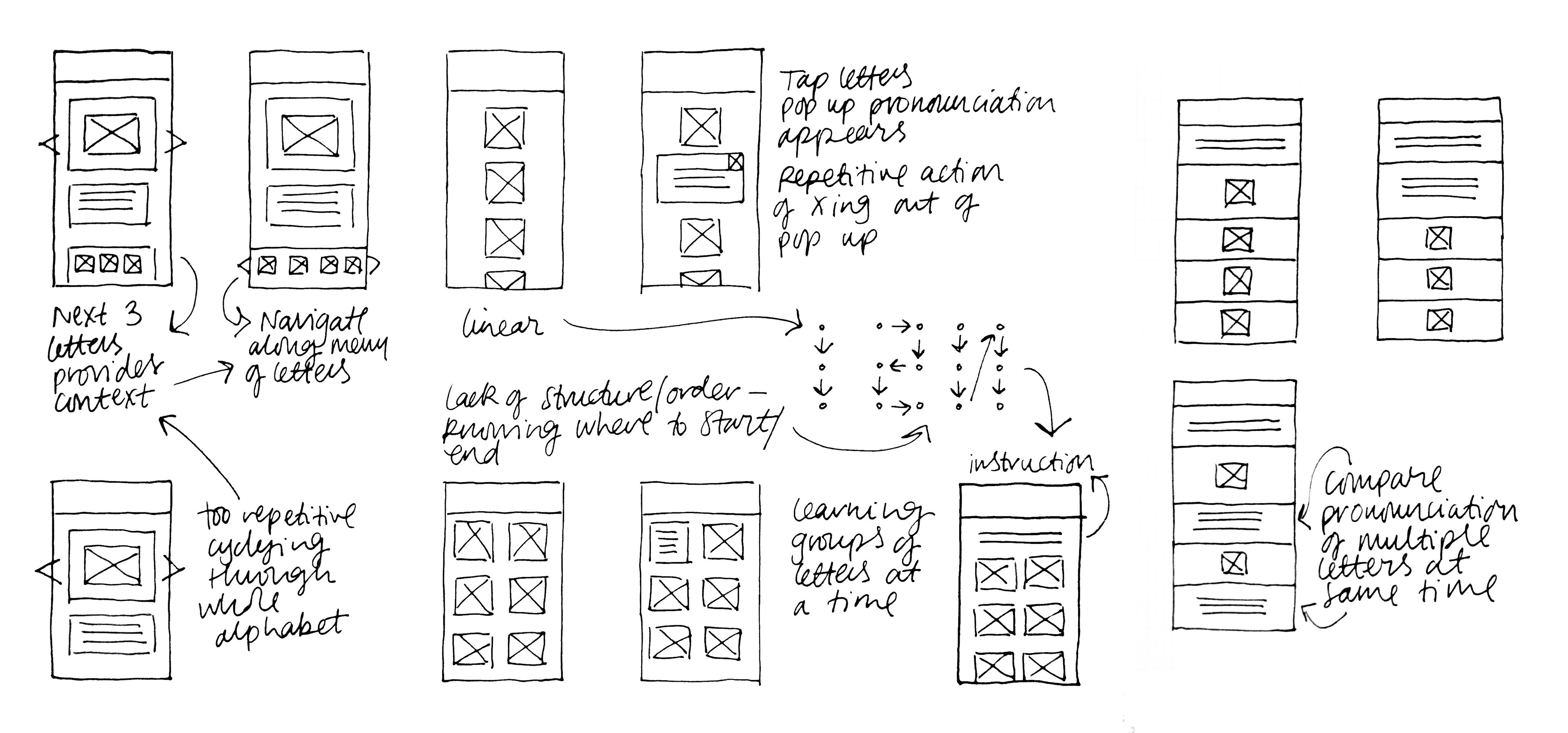 By sketching several options, reviewing these and measuring them against the design goals, I arrived at a design to move forward with through a process of elimination. Next, I created mid fidelity wireframes of my sketches to further explore the interactivity of the feature.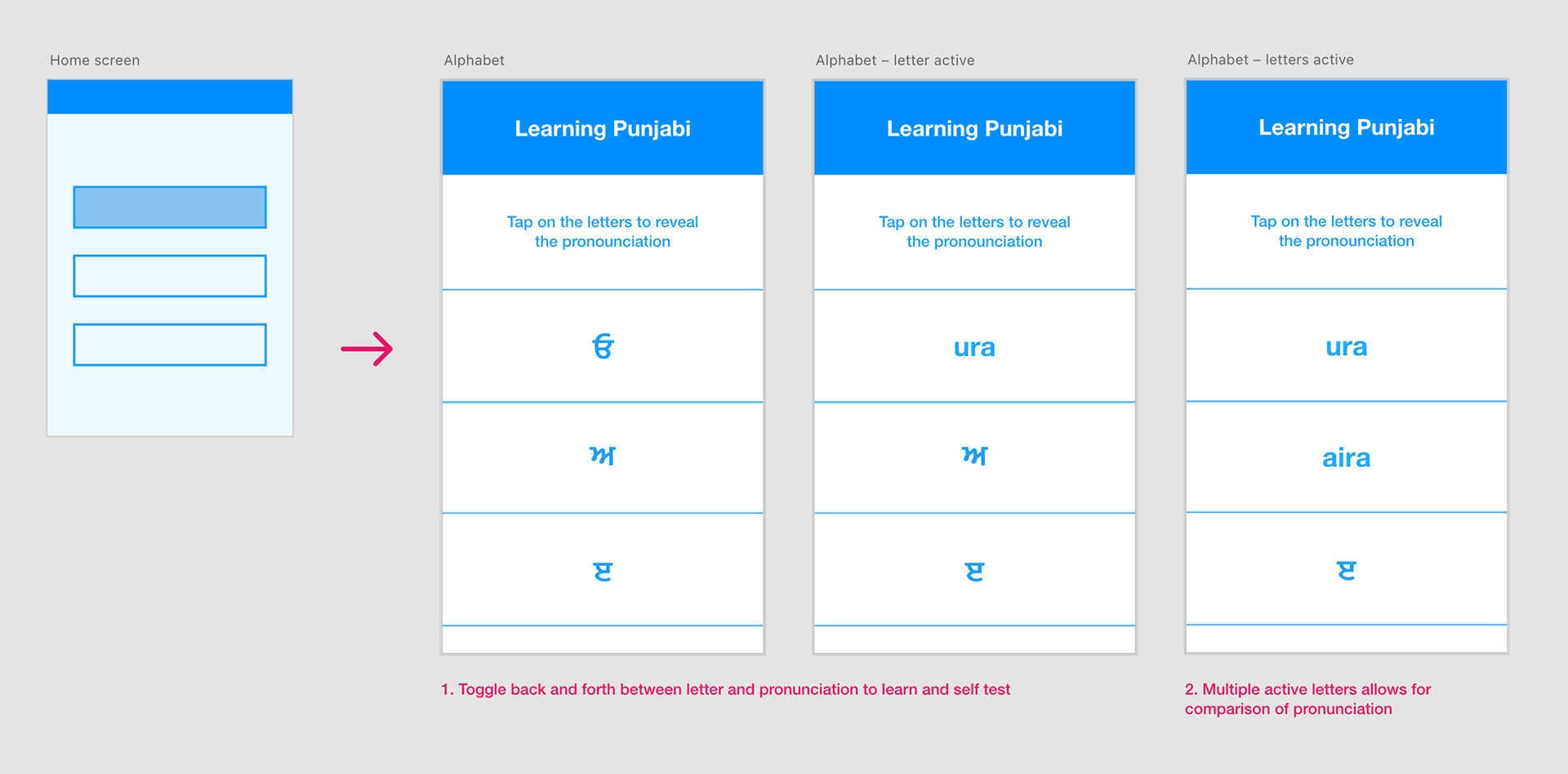 Having considered content and layout I was equipped with a framework for further design work to be based on. However I wanted to explore the interactivity further, and make design decisions based off more than the competitor research.​​​​​​​
User testing disproved my assumption of how people would interact
Since I was doing this project on my own, I was keen to test with users as soon as possible. I also wanted to practise my coding skills, so adding some basic styling I built a prototype of the wireframe. I tested the prototype on 5 people, and while observing their interactions I realised I had made an assumption about how people would use the product. All the users interacted with the prototype in the same way, indicating to me that I needed to revisit the design.
Overall, the feedback was positive. After testing the prototype one user commented:
"I really enjoyed it! It's fun to use, it felt a bit like
playing a game"
Testing with users revealed to me that I was creating a product that people enjoyed the experience of using. However the other part of the projects goal, a product which people can learn the foundation of the language from, needed improvement.
The toggle feature needed to be taken out and replaced with something closer to how users where actually interacting with the product. Users had assumed each letter was a button, tapping it once and then moving on to the next letter. 
When users read the Punjabi pronunciation they struggled. To help bridge this gap, more detail on the pronunciation of letters was required.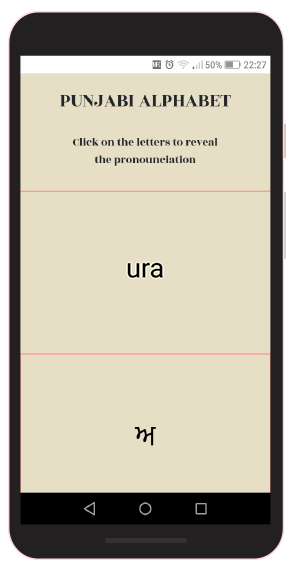 Prototyping a new version where users receive more help with pronunciation​​​​​​​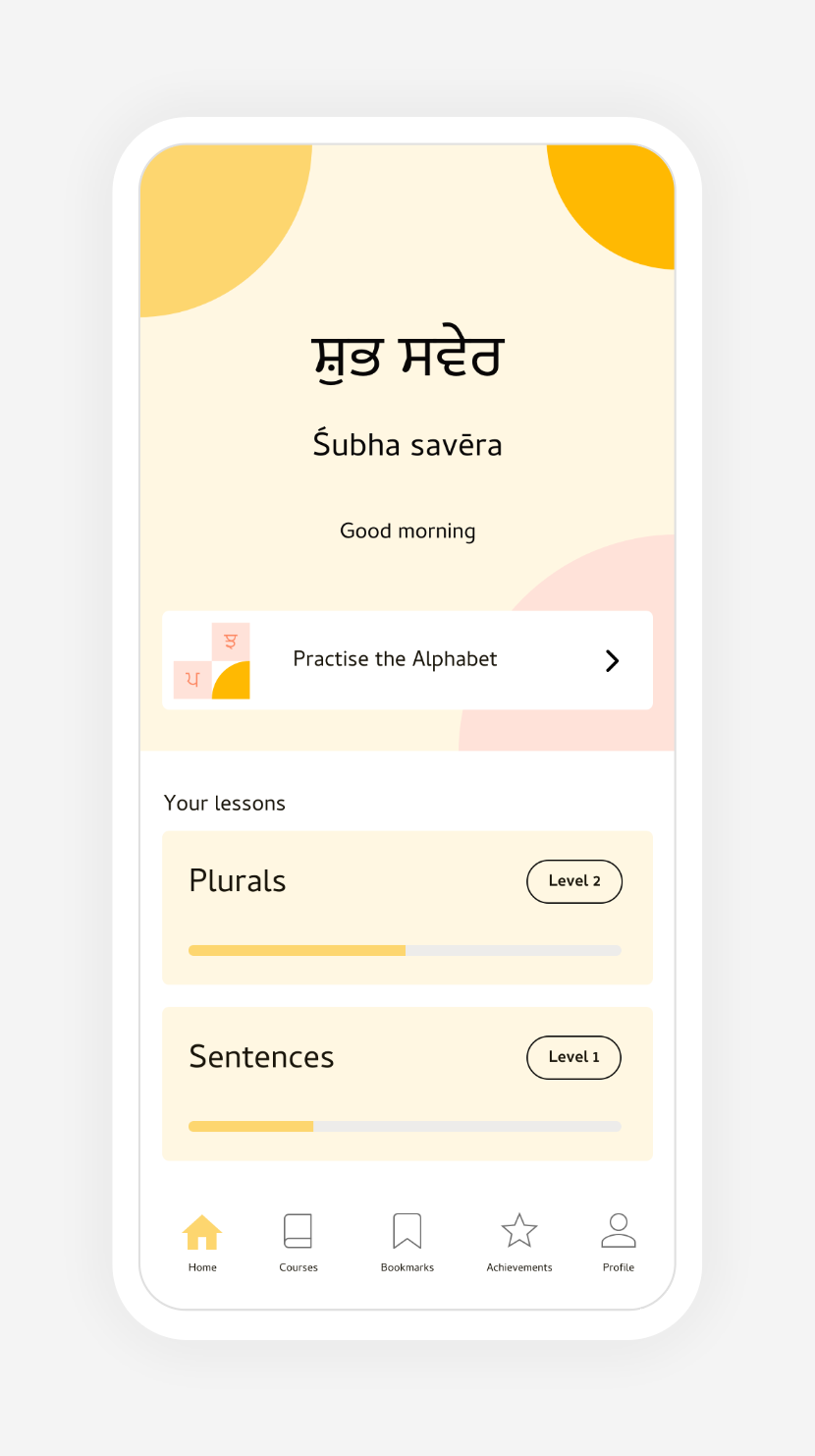 The Alphabet component is persistent, providing users a way of practising the language no matter how little time they have.
Utilising the feedback from testing I redesigned the alphabet feature by changing the toggle feature to a button and adding more detail to the pronunciation.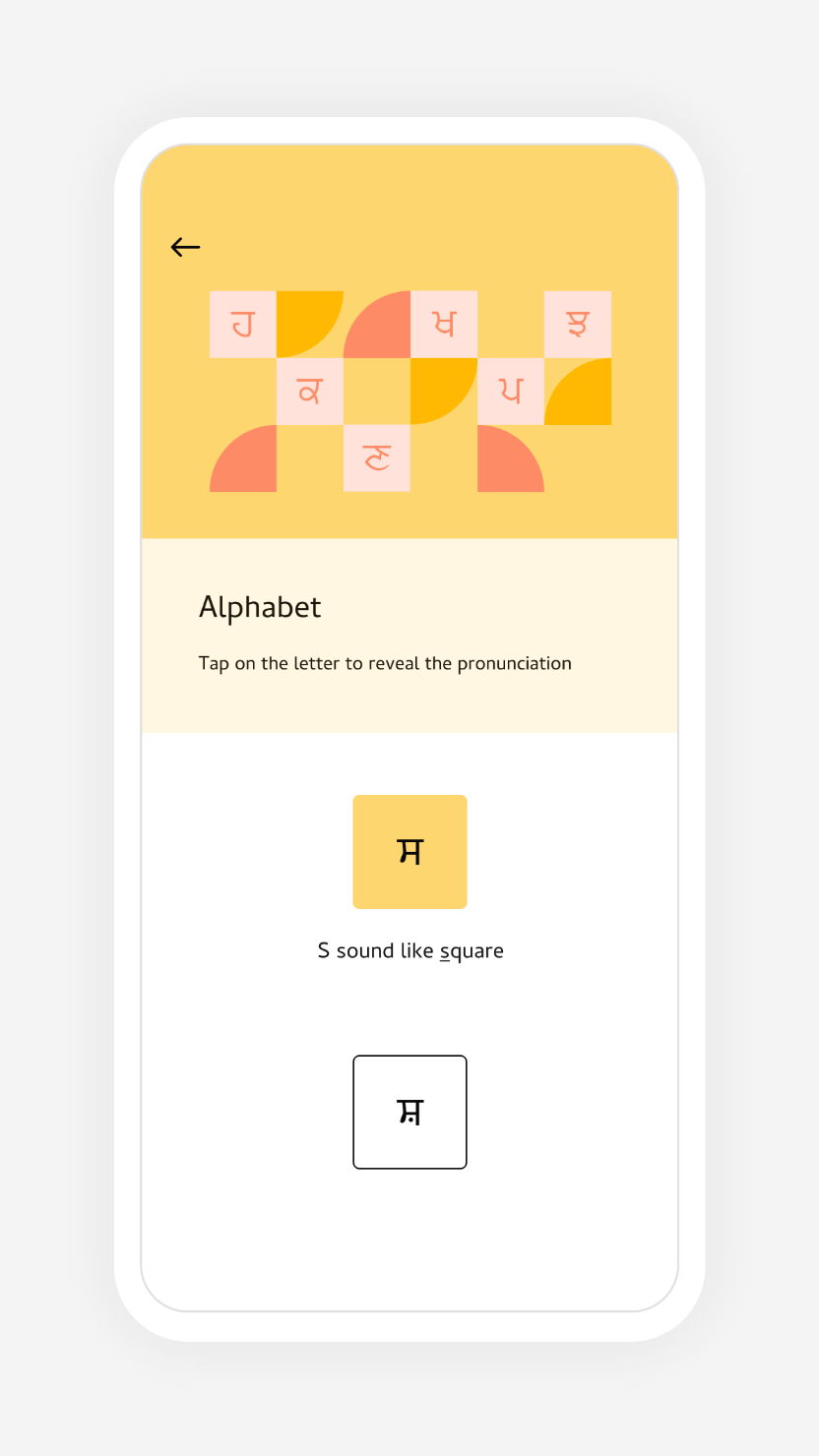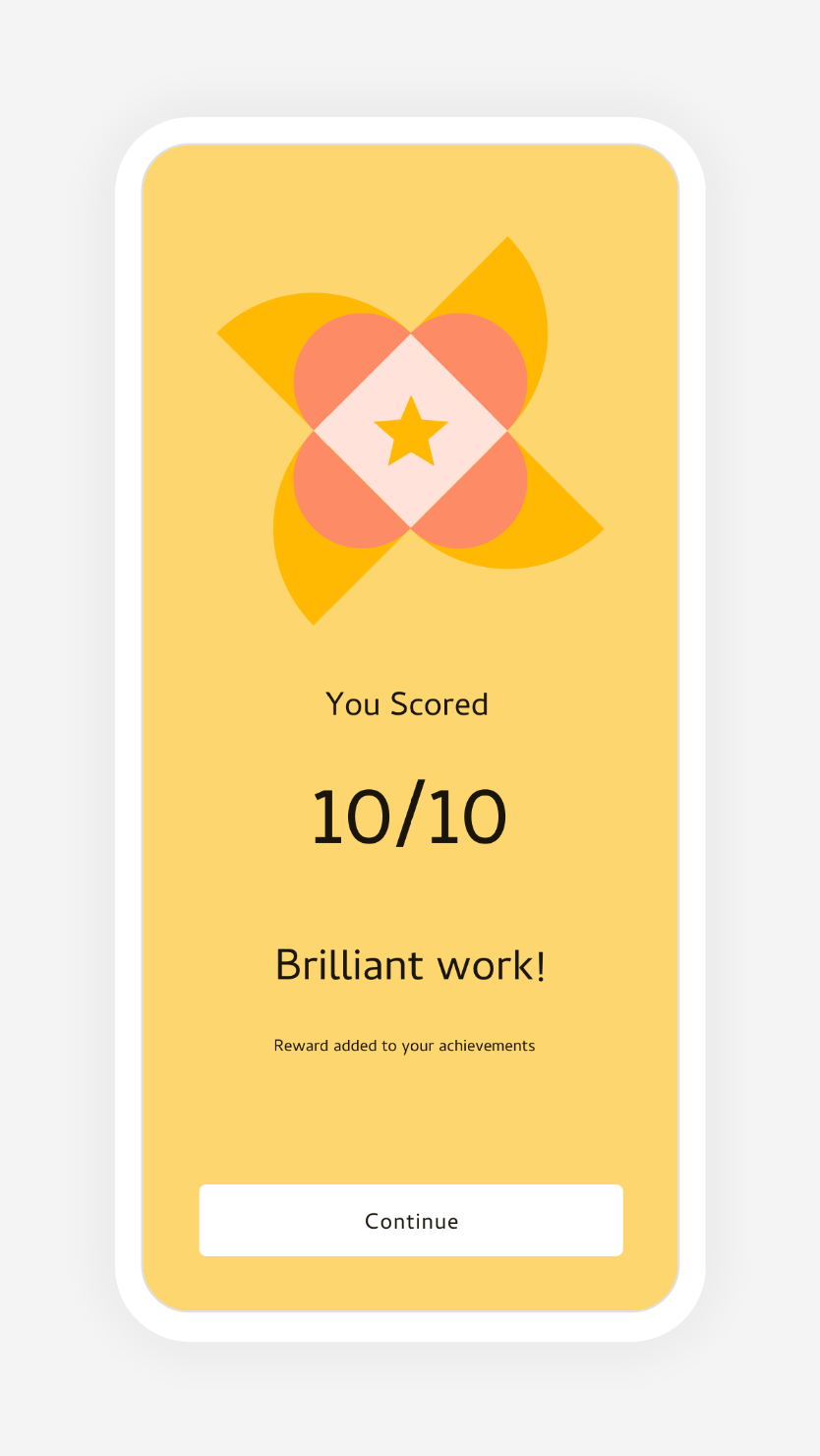 After testing their knowledge users are encouraged to continue with learning by receiving rewards and goals to work towards.
A better designer through self reflection 
Despite my initial hesitancy to delve into this topic, I've found that exploring this facet of my identity has made me a better designer and collaborator. In claiming this space of belonging for myself, I've seen the value my unique perspective can bring to my design work. 
Testing early
Testing early with users was especially important on this project as, working on my own, it was crucial to get feedback and have my assumptions challenged as early on as possible. If I had been working within a team I would have benefited from other people's insight in the earlier stages of the process.
Next steps
As I've continued to learn the alphabet I've noticed other learning methods I've utilised to embed the knowledge. I would be interested to test these methods on users to see if their learning would benefit from them too and if so how it could be integrated into the prototype. Beyond the alphabet feature I would also like to explore the more complex concepts of learning the language, such as sentence structure.
What would longer term success look like?
Beyond iterating on existing features or adding new ones, the overall success of the app would be measured by how engaged people are with it over a sustained period of time.